Local governments and town councils can benefit greatly from audience response systems. Sometimes, people think of audience response systems as a tool primarily used for conference presenters and team building coordinators, but this kind of software can play a significant role for making the logistics of running a local government meeting more effectively and efficiently.
There are three specific ways that we encourage local governments to use an audience response system: voting, polling, and receiving immediate feedback/questions. There are other integrations of the software, but these are the ones that make the biggest impact.
Voting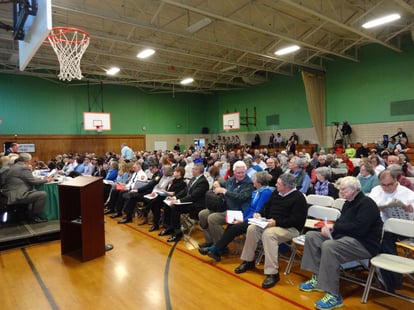 Many precincts have already decided that anonymous voting systems like for a full-fledged election are too expensive and cumbersome to operate during a meeting, leaving them with paper-and-pencil voting. Conducting polls and votes through an audience response system maintains anonymity and increases security.
It also improves efficiency by moving away from a time-consuming method that requires people to move around and submit their vote, then have their vote tallied by hand. It's easy to see how accuracy improves as well. There is no room for tabulator error when the tabulations are conducted by an excellent software system!
In an audience response system, a vote is opened to get real-time, anonymous results from eligible participants, who can participate using provided devices or their own. The voting period can be left open for a determined amount of time or until a certain number of votes have been collected.
Once the voting is done, the results can be revealed when the administrator decides--either immediately or at a later point in time. The software will automatically figure the results and percentages so that government committees and councils can consider their bylaws to determine the results of the vote.
Polling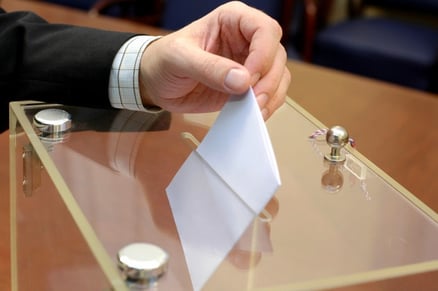 Opinion polling is another option for councils , municipalities and commissions. Open a poll and gather immediate feedback from the people attending a public hearing or meeting. This can help prioritize discussion items for the meeting, get an idea of what issues attendees are present to discuss, and gauge attendee sentiment on public debate issues.
Polling has many of the same benefits as voting, including: anonymity, security, and accuracy. It's far more effective than gauging response through a show of hands or guesswork.
Gathering Feedback/Questions
An essential part of town meetings is taking questions from those in attendance. Often, this needs to be done one at a time, with community members having a set amount of time to share their comments, questions, or concerns at a microphone. This is not something local governments should abandon, but it could be easily supplemented with audience response technology.
Adding an option for attendees to provide comments or ask questions from provided devices will allow the committee or council to accept more comments than just the ones they have time to hear from speakers. It also allows community members who are not comfortable with public speaking to share valuable comments and questions.
This kind of feedback can ensure that a local government has communicated clearly, because they can verify through a few short questions whether or not people in attendance understood what was being shared, or if further clarification and information is needed.
In short, audience response technology is a great tool for local governments. Administrative staff, town and city councils, and other local government groups should research and understand the many benefits of integrating an audience response system to both internal and community meetings. Contact Option Technologies today for more information.