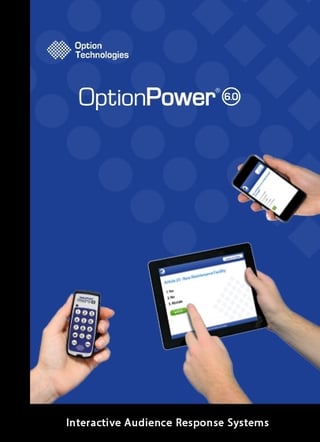 Option Technologies International, a leading provider of audience response systems, is proud to announce the release of OptionPower 6.0, an upgrade to their flagship OptionPower software application that adds polls, surveys, electronic voting and other interactive functions to PowerPoint presentations. This incredible software is released this month!
The OptionPower 6.0 release includes support for Windows 8.1 and 10 as well Office 2016. It includes several major enhancements, including a new SQL database (MSSQL 2012). The product now includes support for 16:9 (HDTV aspect ratio) slide layouts and an updated roster module that allows users to activate and deactivate participants individually.
OptionPower 6.0 includes the following features:
Office 2016 compatibility
Windows 10 compatibility
Easier Install
Easier Use
8 new Virtual Base Station features
OptionPower systems are used by client organizations for electronic voting, adult learning, market research and group interaction. The system gathers data from proprietary wireless keypad hardware along with browser equipped devices and immediately tabulates and analyzes results. The new software no longer requires administration rights for easier operation!
OptionPower 6.0 extends the ease of use and functionality of the system and adds the ability to combine input from different audience response devices, including keypads, smart phones (iPhone & Android devices), and tablets. The web-based Virtual Base Station Module now supports broadcast of slides and other presentation materials along with tabulated polling results in real time. Other enhancements include new display screens and new reports and polling slides in the Council Voting and Decision Support Modules.
This is the most powerful version of OptionPower to date. We have migrated to the latest versions of Windows and Office and added more features to all seven Add-On Modules. You will love the power, flexibility and user-friendliness of this release.