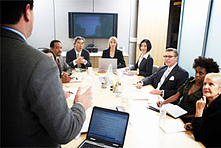 Trying to decide whether to rent or buy an audience response system? Here are some of the key reasons that the rental alternative may be your best choice:
1. Save Money - If you plan to use an audience response system less than six or eight times per year, renting a system is often more economical. Purchasing a system involves an initial capital outlay and ongoing costs to store and maintain the equipment (changing batteries, etc.). In addition, significant personnel time is required to install the system as well as learn and maintain the skills required to use the technology effectively. As employees come and go, you will need to re-invest in training. As your computers and software change, you will need to purchase and install polling software updates as well as new firmware and hardware drivers. When making your decision, consider the total cost to use the technology beyond the initial system purchase price.
2. Save Time – Renting a system allows you to avoid time commitments for your team members in maintaining the system and preparing interactive polling presentations. On a full service rental, OTI personnel will setup and operate the system for you.
Self-service rentals are available using our OptionPower response system software that fully integrates into your Microsoft PowerPoint. Presentations are simple to set up, easy to master and results are instantly displayed so the presenter can confidently direct the presentation. You should plan on 10 to 20 hours in time commitments for a typical meeting.
3. Get the System You Need For Every Meeting - Renting a system insures that you will always get the latest interactive keypad hardware, exactly the number of keypads you need for your meeting, and hardware will be checked and maintained with fresh batteries every time. Clients who own systems often have too few or too many keypads for a particular meeting. With the rental solution, OTI provides a wireless response keypad for each attendee at the event in which they use to enter their answers anonymously. The OptionPower software immediately tabulates all of the answers and delivers the results to on screen displays and printed reports. With a rental solution you have access to the very latest OptionFinder keypad technology and software.
4. Design better polling exercises - By hiring and working with a seasoned OTI professional before, during and after your meeting, you will be able to design better questions and develop polling exercises that will more effectively achieve your desired outcomes from the event. You are able to leverage our extensive experience. Your consultant will provide you with sample polling question structures, a speaker's guide and custom draft polling exercises to achieve your outcomes. OptionPower interactive software allows you to create interactive polling questions in Microsoft PowerPoint, and with the aid of it, most of clients discuss the results with their participants; even though everyone sees the same data, many interpret it differently.
5. Redundant Equipment – Clients who own systems often do not purchase backup hardware; however, a full service rental system always includes primary and back-up control computers, base stations, cabling and spare keypads. This is particularly important for high stakes meetings where there is no time to obtain replacement items. This also minimizes the chance of single point failures. Data is stored in a SQL database that can easily be exported to Microsoft Excel or Access for analysis. OTI team members will create sophisticated reports from within PowerPoint and data from numerous sessions can be quickly evaluated and compared to baselines or norms.
6. Reliable Results - By having a seasoned professional on-site, you can ensure that your presenters will receive the support they need in developing and delivering interactive presentations. The system will be set up and tested in advance. OTI understands that interactive audience response systems are simply a tool to help you achieve a better outcome from your meetings, training sessions and events. Our approach focuses on results, not keypad hardware and software. Results are immediately displayed in real time so that presenters can confidently focus on the meeting content and steer the presentation in the right direction.
7. Advanced System Configuration - For meetings in larger meeting venues that contain more than 200 participants, the placement of base stations and configuration radio equipment can be challenging and beyond the skills of novice users. OTI's professional consultants will skillfully configure the equipment for the range and performance necessary to successfully gather votes from all meeting participants.
If the issues listed above are relevant to your situation, renting a response system may be your best choice. Please contact an OTI representative today to find out more about how we can help provide a rental solution that will help you achieve your meeting outcomes. You can reach us at 407-872-3333 or visit our website at www.optiontechnologies.com.