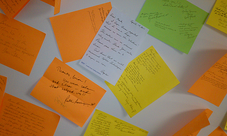 Option Technologies Interactive recently received high praise from the Sinsinawa Dominicans, a faith-based Community of Sisters. At their annual meeting, they were delighted at the amount of time that was saved voting on governing issues and electing their new team of leaders.
OTI provided a turn-key rental service, which included an on-site consultant, OptionPower software with the our unique Delegate Voting Module, and an OptionFinder G3 keypad for each voting participant. The Sisters estimated that the use of the OTI system saved as much as twelve hours of collective meeting time involved with a paper balloting process.
The Sisters liked the electronic voting process so much so that they took time to write a collection of very thoughtful thank you notes to the OTI team on brightly colored sticky notes. We posted them on our OTI conference room wall, and are happy to share a few highlights from these very special women...
"Dear Mark, I hope Brian reported that he was a huge success as were the "clickers." The sisters were so pleased they wrote Thank you notes. Please pass them on to Brian. I know that we will recommend Option Technologies to anyone we can." - Mother Angelo
"Brian, thank you so much for your service to us in operating the "Clicker" system during our election process. It made it move so quickly." - Sr. Virginia
"Thank you for your help. You saved us so much time." Sr. Kathy
"Thank you for guiding the machines and us through what could/would have been a long tedious time without you." Sr. Toni
"Thank you for making us look like we knew what we were doing. Your clarity, intelligence, willingness to help made us look good! Thank you!" Sr. Kate
If you have a challenging decision making or delegate voting meeting and would like to learn more about how you can leverage technology to accelerate or enhance the process, click here, call us at 407-872-3333, or visit our web site. We will be happy to consult with you and prepare a custom web demonstration of a solution that meets your needs.