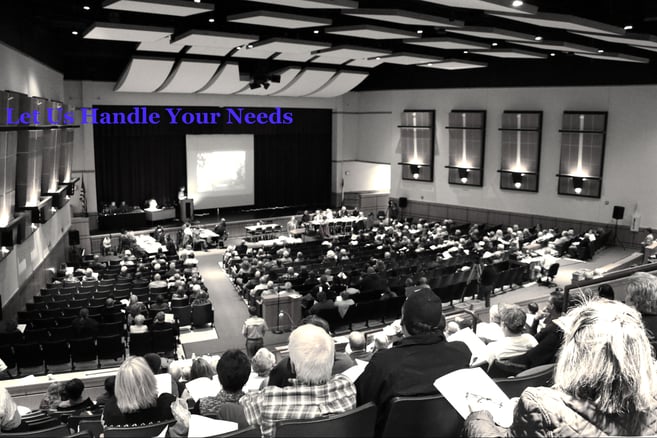 What is the DIY Option?
If you are looking for a basic way to experience the benefits of interactive audience response technology, then a do-it-yourself meeting may work for you. Unlike a turnkey meeting where all components are coordinated or produced by our staff, you will handle the on-site aspects of a DIY event.
What We Provide
OptionPower software for use with Microsoft PowerPoint
Live personalized web training so you can learn how to use the system
Wireless response keypad for each participant
Receiver to collect responses and votes from participants' keypads
OptionPower software allows you to create interactive polling questions in Microsoft PowerPoint. You will prepare your presentation, setup the receiver, test the wireless keypads and manage interactive polling process at your meeting.
Is DIY the Right Choice for You?
Our DIY option is the perfect fit for clients who need a basic interactive solution and already have good PowerPoint skills and feel comfortable with basic computer operations. It is often a cost effective fit for smaller meetings with less than 100 attendees.
Unsure about the technical part? Don't worry, we realize everyone has a different learning curve and level of comfort using new technology. We offer a wide range of training options and professional services to ensure your next event will have the outcome you desire.
Your success is our success, so we'll make sure you have the training and necessary tools well before the day of your event.
Whether you choose our turn-key or DIY option, we will take the guesswork out of adding interactivity to your next event. We realize no two events are the same so we won't try to fit your meeting into a set of predetermined guidelines. We believe technology should enhance your meeting experience, providing the intended outcomes and achieving your goals.
What is a Turnkey Event?
When you need results without the hassle, we handle every detail.
Our turnkey audience response solution is a good fit for larger events and high stakes meetings. We provide support before, during, and after the meeting so our clients can enjoy a hands-off approach. Our role includes:
Clarifying the outcomes polling will achieve at your meeting
Working with you to develop effective polling exercises to achieve those outcomes
Programming polling exercises and rehearsing them with your team
Shipping, setting up, testing, and operating the system during the meeting
Providing clear post-event reports for data analysis
All this without any of the responsibilities, hassle, or learning curve passed onto you. The last thing you want when planning an event is to add more to your list of things to do.
What We Provide (and Take Off Your Plate)
Option Technologies team of interactive meeting professionals will streamline your event by working with you to quantify the outcomes you require from your meeting and coordinate all interactive aspects including:
Interactive Format– Our team will determine what types of exercises (group response, competitions, simple interactive questions, list prioritization, sequencing, etc.) are most appropriate for your objectives.
Question Design– We will coach your presenters on interactive question design based on the outcome goals of your event.
Participant Management– Assign a response device to all participants and roster the full audience so responses can be tracked for scoring and grading certifications, when required.
On-site Management– We coordinate keypad distribution and quality checks while monitoring the system during live activities and addressing technical questions.
Logistics– Leave shipping, receiving, and performing quality control in our hands.
Report Generation– Our team provides both individual and summary reports at the conclusion of the program to facilitate peer/group comparisons and measurement of knowledge uptake.
Hardware – All necessary hardware and software are also included for our turnkey events.
Our team of meeting professionals will take the guesswork out of adding interactivity to your next event. Our extensive experience with corporate meetings, international conventions, public forums and other highly produced events enables us to provide you with a truly hands-off experience while assuring superior results.
Give us a call today and experience the Options Technologies difference!